At CPPL, we manufacture and supply a range of high performing louvres. Fully customisable, our louvres have been used in installations across the UK. Installing louvres onto a building's exterior is an excellent way to protect the building against the weather and enhance its visual appearance. Louvres are also great at providing solar protection, to create a more comfortable interior environment.
Reduce solar glare and improve productivity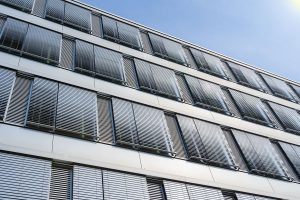 For office workers, solar glare can be uncomfortable and distracting. Particularly at this time of year, the low winter sun can dazzle the interior of many tall commercial buildings, making computer screens barely viewable and shining directly into workers' eyes. For some offices and commercial buildings, interior blinds are not an option. This is where solar louvres are an excellent remedy for reducing solar glare.
Solar louvres from CPPL are installed directly onto the exterior façade of large commercial buildings. Made from lightweight and durable aluminium, they can protect a building's interior from solar glare, and provide a wealth of benefits both to installers and end-users alike.
Fully customisable solar louvres
At CPPL, we can manufacture louvres to meet your exact specifications. Whatever shape or size of commercial project you're involved in, we'll endeavour to supply you with custom-made louvres that match your requirements. When it comes to protecting against the sun, our louvres can be designed to block the sun at certain times of the day to reduce interior solar glare. We will calculate the angle of the sun's rays and take this into account when designing the configuration of your louvres.
If you want your louvres to curve around a spherical building façade, we can bend the aluminium to the desired shape. Our louvres can be manufactured in multiple depths to match the thickness of the wall panel's insulation, and we can powder coat your louvres with any of over 200 RAL colours to create a completely unique look.
Louvres are an excellent way to protect and enhance any commercial building. If you're involved in a large-scale commercial project and you'd like more information about working with CPPL, contact us today. Call us on 01604 810 012 or send us a message online.