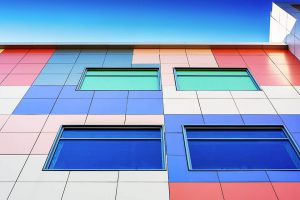 Working on commercial projects, be it in a busy metropolitan district or somewhere a little more suburban, it's highly likely that your client will want their building to stand out from the crowd. That's why with every insulated and cladding panel we fabricate we offer architects and installers their pick of an eclectic powder coated colour suite. The advantages of powder coating are tenfold compared to other methods. Here's why:
A guaranteed vibrant finish, regardless of chosen colour
Powder coating works by having dry powder, rather than liquid, electrostatically bonded to the metal using an extreme heating process. The result is an outer skin of colour which notably 'pops' when compared to other finishing methods like spray or foiling. The best part about powder coating is that the bond between colour and surface ends up so strong, fear of fading, flaking, or decolourisation is a thing of the past. Even at the height of summer buildings will stay looking stylish.
This effect can be achieved successfully in any chosen shade – of which there are many. There are over 60 distinct finishes available overall, ranging from contemporary tones like Lime Green and Passion Red to more authentic colours like Royal Blue and Cream White. Regardless, finished panels will always boast a long-lasting and vibrant aesthetic to wow your commercial clients.
High weather resistance against harsh elements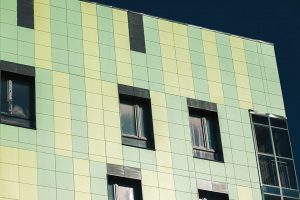 Part of the reason powder coated panels can stay looking as good as they day they were fitted, is due to their natural ability to resist heavy rain and harsh sunlight. The commercial buildings louvres, panels and pressings tend to be integrated into are generally subjected to all these elements. By powder coating these colours there will never be any chipping, scratching, fading, and wearing.
The environmentally-friendly colouring option
Many multinational companies are adopting an eco-friendlier mindset, if for nothing else than the overwhelmingly positive PR they can then tout. Regardless, this comes in particularly handy when powder coating the panels used for their commercial structures as the method is highly protective of the environment. This is because the powder-based solutions used don't contain the pollutants present in liquid finishes. The atmosphere outside will remain safe and sound.
Commercial panels that look great and stand the test of time
Bespoke panel and pressing solutions are what we do. Engineering them using only the highest quality aluminium, to help installers, architects, and builders impress their respective clients far beyond expectations. If you'd like to add powder coated commercial pressings to your product portfolio, contact a member of the team here today to discuss.